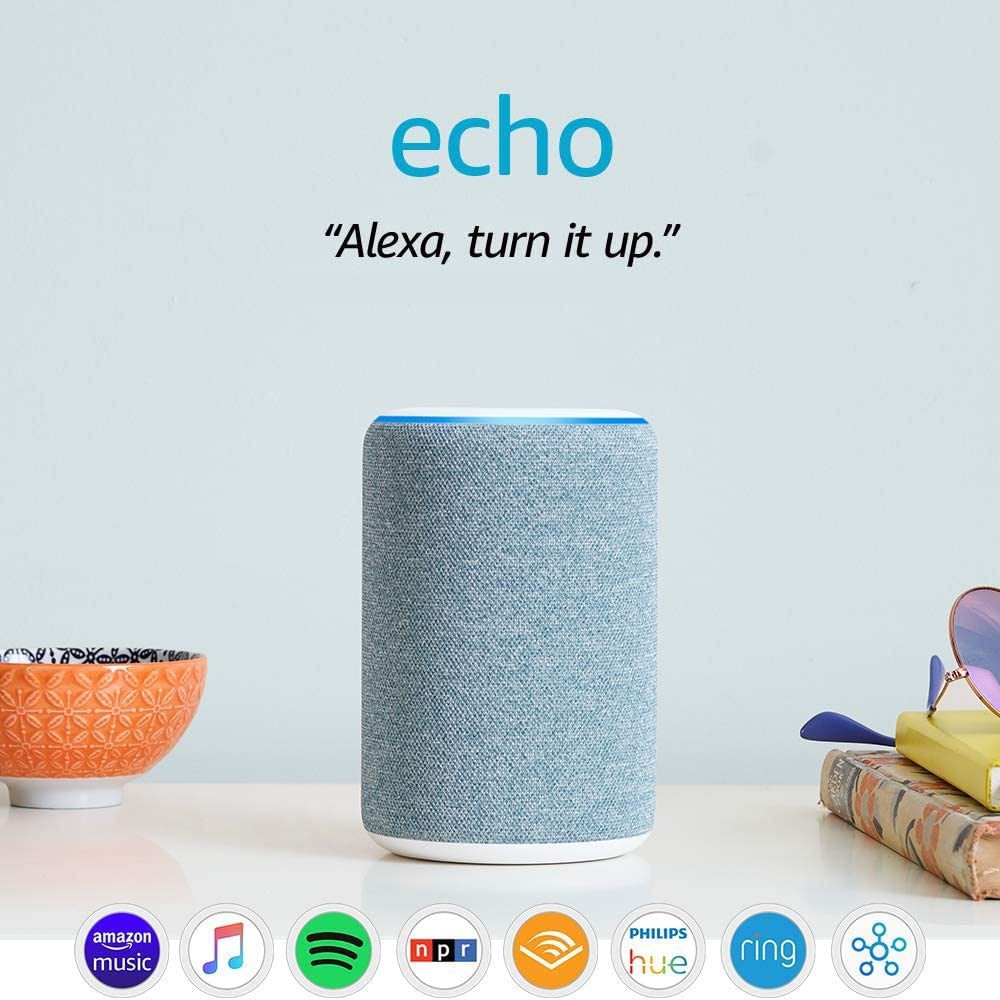 Buy This Item

amazon.com
Description
Meet Echo - Echo (3rd Gen) has new premium speakers powered by Dolby to play 360° audio with crisp vocals and dynamic bass response.; Enjoy premium sound - Personalize your listening experience by adjusting the equalizer settings. Pair with a second Echo (3rd Gen) or Echo Plus (2nd Gen) for...
User reviews
Pros:• This is a solid built machine. Very sturdy and no dust cracks, while retaining its simple form. One of the few times I can say you're getting exactly what every picture on the web is showing.• I had the basic black design, but I do appreciate that Amazon is offering more colors rather than there basic set (even if it's only a few generic colors).• The mute option is the most appreciative tool. When you activate it the classic blue glow will fall into the red, giving you the visual display that your privacy is being protected.• The sound performs exactly what it's built for. I found no issue in testing in an open living room. The volume goes to great levels as once again, for a 360-degree smart speaker, Amazon reigns supreme.• Testing all ranges of music, I found that that bass to be rich and powerful. My colleague has the previous Echo Plus and she states that there is an improvement in the bass with this Echo. An overall rich sound when a piano came in and a warmer outcome when acoustics came into play (You'll get the bass experience when you hit those hard beats).• Like any other model, the Bluetooth connectivity between a third party stereo works flawlessly. I tested this out with some Bose surround sound, and nothing but clear music. You can also pair the Echo if you have smaller / weaker speakers. Both together will pump up the experience.• The connectivity is so flawless that buying two of these devices (or use Echo's previous versions, if you have one) and put them in separate locations doesn't make this a bad idea. You're going to get great quality in music without paying an am or a leg for it.• I have to appreciate Amazon for not pushing their music platform. They offer the usual Spotify (which I used) but also Apple Music, Deezer, TuneIn, even BBC sounds. You're getting a lot more features than just a basic smart speaker.• Using Google Home for over a year I can say that just saying "Alexa" felt more natural than saying "Ok Google." Not to mention having Alexa listen to me every time I said: "Alexa" (Google Home users will understand this).• Like before, smart applications fit like a glove in this system. I only used it for lights and the Echo was spot on. This feature is more common than ever on any smart speaker, and the Echo does what it's supposed to do.• I admire the organization of the app because it's your remote control on anything you want the Echo to do. Turn off lights, switch music, mute volume, install new features, and so forth. We all carry our phones like carrying our driver licenses when going outside. This day in age I'll always prefer an app than a physical remote.• I did some Alexa calls on this and found only clear responses and answers (this will depend on your Wi-Fi).• I would give 70% of Alexa sounding more human.• Everything is in the cloud so, you don't need to worry about manual updates. All taken care of.• As I mentioned before, everything else is the same in a smart speaker. Ask for the weather, traffic, upcoming appointments, and all other general questions. I didn't test all of them because…well is the same technology as last year.• The biggest difference in my book is the price. Newer and cheaper.Cons and Oks:• No Zigbee controller. This isn't much of an issue, but if you already have a smart house layout than you'll need to spend some extra time configuring with the Echo. The issue for this is that it puts more work on the Echo than you need. Also, there may be some smart devices that won't work on the Echo because of this. I know last year's models had some connectivity issues with Philips Hue bulbs. Keep an eye out for which smart devices are compatible with the Echo.• I did notice that the app slows down when you put a lot of apps and smart applications in the Echos. I tested a lot of features out that require a decent amount of downloads, but the results did create a delay in the app. I have to assume without Zigbee's software, if you have a lot of smart applications connected to the Echo, and with the general apps you use, there will be a delay in the long run.• The Echo gets loud. Loud enough that you'll get some distortion when you're around 95% in volume. The effect is shown when a lot of bass is begin made. Please note that 90% and up is booming your entire house.• Compare to Google Home, Alexa still isn't the brightest smart speak in the family. For the basic day to day task it works fine, but those random questions that we tend to have throughout the day Alexa doesn't deliver. Alexa will usually provide you with a quick one-sentence summary (Unlike Google, it would provide you a short paragraph.). This issue doesn't happen all the time, but you'll notice it when it does.• I'm trying to learn Spanish, so asking smile Spanish questions with Alexa is not reliable. Example I will say "Alexa, what does "Qué estás haciendo" in Spanish mean (What are you doing?)? Alexa will say "What are you happy." I've been studying for 6 moths so my speech on that sentence was spot on, but Alexa. Not a reliable study buddy.• I had the first version of the Echo and all I can say is I miss the rotation ring. Bring it back Amazon.• The design is nothing new. It's built very solid, but it's identical to Echo Plus 2. My colleague had the Echo Plus and putting them aside there was no way you can tell the difference (a nice note if you want to steal your friends and replace it with the last version).• Even the sound is almost similar to the previous Echo. Both are fantastic, but almost the same.Bottom Line:It's a great smart speaker system, but almost identical in every way as its previous model. There is nothing wrong with that because Amazon does put in a lot of features into this Echo that makes this right in the top three (Google Home, HomePods, and the Echo Family). It's accurate, excellent sound, and lower in price than its previous model.Some concerns are the effects in the long run with those who have a decent amount of smart applications, and making sure the compatibility can be performed accurately. Also knowing the limits of what Alexa can and can't do as the hardware is identical to its previous version. I wouldn't be surprised if you want to just read Echo's previous model amazon reviews. Trust me when I say that they're almost identical in sight and performance.In the end, the reason it doesn't matter about the flaws is because the price is well worth what you're getting. It's a machine that I can see using it every day for the simplest things such as setting up an alarm to enjoying it in small parties. I will say that if you're planning to use your surround sound stereo connected to this, then this is a must buy. You pay a heavy price for a HomePod, enjoy a generic performance for a Google Home, and are presented with an overall user-friendly experience with the Echo 3. Cheaper than its predecessor and the worth every penny.Overall: A tiny upgrade from its previous model, but still an excellent experience in sound for all.Hope I was a help to you.Love,Honest Reviewer
I purchased my first Alexa Echo 1st Gen two years ago and I fell in love right away! It was bittersweet for me to replace it with the newer 3rd Gen but they had an amazing trade-in offer so I had to take advantage of it. First thing to note this Echo is much shorter than Gen 1 but a little wider which I prefer because it looks and fits better on my kitchen island. The new blue color is amazing if you're considering getting it! Setting up the new Echo was the easiest most seamless process! I literally took it out of the box, plugged it in and in under a minute it set itself up and was ready to use! I didn't have to do anything, it was already programmed with my smart lights and my WiFi, couldn't ask for an easier setup. I love my Echo and use it every day and if you're considering getting one, I say go for it! If I had to critique or complain about anything the only thing I could say is the wall adapter is really large since it's still a square block like Gen 1. This is more of a personal opinion but Gen 1 had a rotating top to turn the volume up and down (which I loved) where as Gen 3 has volume up and down buttons. Functionally they both work I just though the rotating volume top was more fun and unique, but I'll live on just fine with the buttons.
This is my first time purchasing an Echo Alexa of my own. I've used an Alexa 2nd Gen at my job and it's pretty nice. I noticed the difference between the 2nd and 3rd Gen is that the 3rd Gen speaker is way louder and clear and I like that. I'm still playing with it and getting used to it but I do LOVE the Twilight Blue. That's a sexy color to be honest lol. So far, I'm impressed with it.